COMPETITIVE SPORT 2014-2015 ROUNDUP
In 2014-2015, the 'Clavering PE & Sport Programme' won a hat trick of national awards: the GOLD standard of the 'Youth Sport Trust Quality Mark', the GOLD standard of the 'School Games Mark' and a 'Community Education Award'. WOW!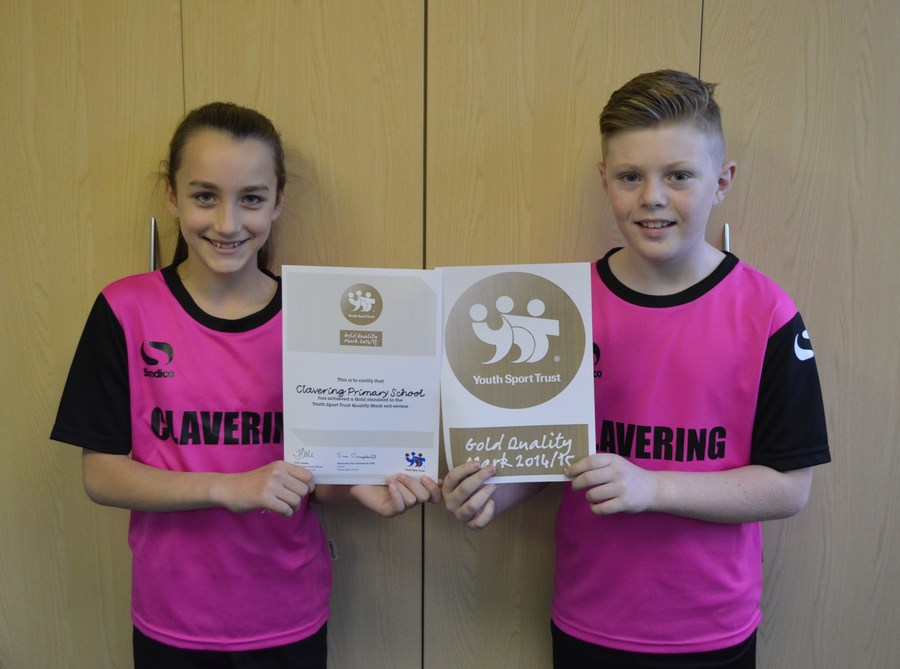 2014-2015 was another incredibly successful year for the school with a magnificent 96% of children in our 2014-2015 Year 6 Cohort representing Clavering in competitive sport. In fact, well over 150 sports superstars from Clavering won competitions with children ranging in age from four to eleven competing for the school.
Clavering sports stars 'medalled' in an incredible EIGHT different sports formats in Town Finals: athletics (gold), tag rugby (gold), sportshall athletics (gold), kwik cricket (silver), cross country running (silver), football (silver), tennis (silver) and tri golf (bronze). In addition, we represented Hartlepool in FOUR different sports formats: athletics, cross country running, sportshall athletics and tag rugby, winning a bronze medal in the Tees Valley Tag Rugby Finals and a bronze medal in the Tees Valley Sportshall Athletics Finals. This truly was an OUTSTANDING achievement!
What was particularly pleasing in 2014-2015 was the success of our 'Clavering Cup of the Americas' which gave 100% of children from Reception to Year 6 the opportunity to compete in intra-school sport, representing one of seven adopted nations from North and South America.
Click any of the links below to open up webpages dedicated to different areas of our Competitive Sport Programme in 2014-2015: