CLAVERING OLYMPICS
Following the success of our 2013-14 Clavering Commonwealth Games and 2014-15 Clavering Cup of the Americas, this year our Intra-School Sport Programme (within our Clavering PE Curriculum) is following a Clavering Olympics theme.
All of our pupils from Year 1 to Year 6 have been divided into seven teams, representing seven Olympic nations:
Australia, Brazil,
China, Greece,
India, South Africa and USA.
100% of pupils will participate in the Clavering Olympics during the course of the year, competing in various different sports competitions.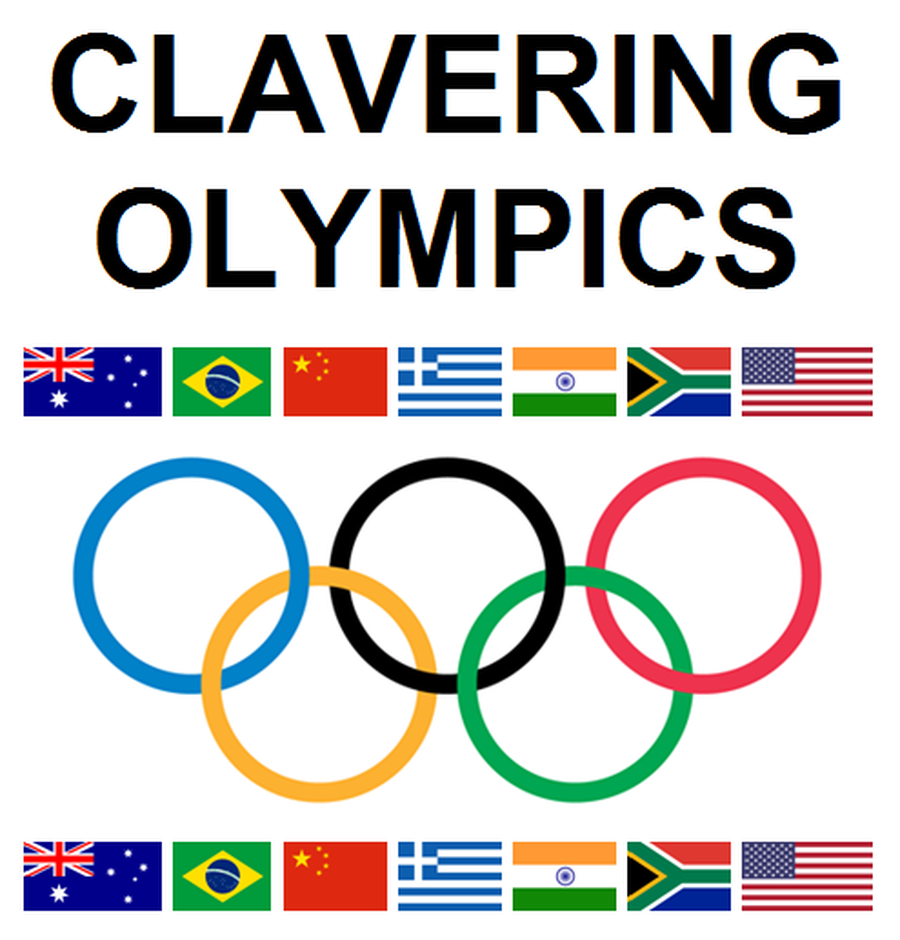 After each Intra-School Competition, points are allocated as follows:
First: 100 points

Second: 75 points

Third: 50 points

Fourth: 40 points

Fifth: 30 points

Sixth: 20 points

Seventh: 10 points
In addition, twenty points are allocated to a child who best demonstrates each Clavering Sports Value (120 points in total, 20 for each of 6 children):
Positions at the end of HT3A:
1st: China 2nd: Australia 3rd: South Africa 4th: USA 5th: India 6th: Greece 7th: Brazil
Positions at the end of HT2B:
1st: China 2nd: Australia 3rd: South Africa 4th: India 5th: Greece 6th: Brazil 7th: USA
Positions at the end of HT2A:
1st: China 2nd: South Africa 3rd: Australia 4th: India 5th: Brazil 6th: USA 7th: Greece
Positions at the end of HT1B:
1st: China 2nd: India 3rd: Australia 4th: Brazil 5th: USA 6th: Greece 7th: South Africa
Positions at the end of HT1A:
1st: China 2nd: Australia 3rd: USA 4th=: India and South Africa 6th: Greece 7th: Brazil
Term 1: Year 1 Intra Squirrels Tournament
First: China Second: USA Third: India Fourth: South Africa Fifth: Australia Sixth: Greece Seventh: Brazil
Determination: Leon D (Greece) Honesty: Joel R (Australia) Passion: Cleavan T (India)
Respect: Ruby D (India) Self-Belief: Isabella B (Greece) Teamwork: Summer-Joy S (USA)
Term 1: Year 6 Tag Rugby Tournament
First: Australia Second: USA Third: India Fourth: China Fifth: Brazil Sixth: Greece Seventh: South Africa
Determination: Abigail S (South Africa) Honesty: Macey H (India) Passion: Michael S (Australia)
Respect: Josh G (USA) Self-Belief: Anna C (China) Teamwork: Libby C (Australia)
Term 1: Year 5 Tag Rugby Tournament
First: South Africa Second: China Third: Australia Fourth: Brazil Fifth: India Sixth: USA Seventh: Greece
Determination: Alexa D (Greece) Honesty: Hollie M (Brazil) Passion: Joshua L (China)
Respect: Anna H (China) Self-Belief: Hannah R (Australia) Teamwork: Tom W (South Africa)
Term 1: Year 3 Modified Netball Tournament
First: Brazil Second: India Third: China Fourth: USA Fifth: Australia Sixth: Greece Seventh: South Africa
Determination: Grace M (India) Honesty: Allister B (South Africa) Passion: Tom W (India)
Respect: Arun B (Respect) Self-Belief: Leah D (Greece) Teamwork: Olivia T (Brazil)
Term 1: Year 2 Kick Rounders Tournament
First: India Second: USA Third: South Africa Fourth: Australia Fifth: Brazil Sixth: China Seventh: Greece
Determination: Jacob W (Australia) Honesty: Lily A (China) Passion: Jessica L (Greece)
Respect: Farrah W (Brazil) Self-Belief: Max L (Greece) Teamwork: Layton H (USA)
Term 1: Year 4 Quicksticks Tournament
First: China Second: Greece Third: USA Fourth: Brazil Fifth: South Africa Sixth: India Seventh: Australia
Determination: Harrison E (China) Honesty: Lilly J (Brazil) Passion: Dean McQ (Brazil)
Respect: Liam H (Greece) Self-Belief: Emily S (China) Teamwork: Maddison H (Australia)
Term 2: Year 5 Tri Golf Tournament
First: Brazil Second: China Third: Australia Fourth: South Africa Fifth: USA Sixth: Greece Seventh: India
Determination: Madison R (Greece) Honesty: Millie W (South Africa) Passion: Rhys C (Australia)
Respect: Pennie C (Australia) Self-Belief: Aiden U-S (USA) Teamwork: Alexa D (Greece)
Term 2: Year 2 Multi-Skills Tournament
First: South Africa Second: USA Third: Australia Fourth: China Fifth: India Sixth: Brazil Seventh: Greece
Determination: Millie B (Greece) Honesty: Lily A (China) Passion: Tom W (South Africa)
Respect: Ruby S-K (USA) Self-Belief: Darcie C (India) Teamwork: Libby H (China)
Term 2: Year 5 Basketball Tournament
First: South Africa Second: Greece Third: China Fourth: Australia Fifth: India Sixth: USA Seventh: Brazil
Determination: Libby H (Brazil) Honesty: Pennie C (Australia) Passion: Thomas W (India)
Respect: Grace H (China) Self-Belief: Kobe S (South Africa) Teamwork: Tom W (South Africa)
Term 2: Year 1 Cat and Mouse Tournament
First: China Second: Brazil Third: South Africa Fourth: USA Fifth: Australia Sixth: India Seventh: Greece
Determination: Harvey M (Greece) Honesty: Kaitlin C (South Africa) Passion: Jack O (India)
Respect: Jack B (China) Self-Belief: Amily H (Australia) Teamwork: Christopher H (Greece)
Term 2: Year 5 Basketball Tournament
First: Greece Second: Australia Third: Brazil Fourth: India Fifth: South Africa Sixth: USA Seventh: China
Determination: Libby H (Brazil) Honesty: Pennie C (Australia) Passion: Thomas W (India)
Respect: Grace H (China) Self-Belief: Kobe S (South Africa) Teamwork: Tom W (South Africa)
Term 3: Year 2 Dodgeball Tournament
First: USA Second: South Africa Third: Australia Fourth: India Fifth: Greece Sixth: Brazil Seventh: China
Determination: Daniel A-B (Brazil) Honesty: Jacob W (Australia) Passion: Luke H (USA)
Respect: Farrah W (Brazil) Self-Belief: Lily A (China) Teamwork: Ruby J (Greece)
Term 3: Year 6 Netball Tournament
First: Australia Second: China Third: USA Fourth: Greece Fifth: South Africa Sixth: India Seventh: Brazil
Determination: Phoebe E (Greece) Honesty: Bradley O (China) Passion: Millie M (South Africa)
Respect: Madeline L (USA) Self-Belief: Bradley A (India) Teamwork: Macy T (Australia)
Term 3: Year 1 Dodgeball Tournament
First: China Second: Brazil Third: USA Fourth: South Africa Fifth: India Sixth: Australia Seventh: Greece
Determination: Harry A (Greece) Honesty: Cleavan T (India) Passion: Chrisopher H (Greece)
Respect: Amily H (Australia) Self-Belief: Calell R (Australia) Teamwork: Kaitlin C (South Africa)
Term 3: Year 2 Football Tournament
First: South Africa Second: Australia Third: Brazil Fourth: China Fifth: India Sixth: USA Seventh: Greece
Determination: Izzy A (Autralia) Honesty: Lewis C (South Africa) Passion: Charlie R (South Africa)
Respect: Daniel A-B (Brazil) Self-Belief: Archie H (USA) Teamwork: George H (China)
Term 3: Year 4 Kwik Cricket Tournament
First: India Second: Greece Third: Brazil Fourth: Australia Fifth: South Africa Sixth: USA Seventh: China
Determination: George H (Autralia) Honesty: Matthew B (China) Passion: Isobel E (Greece)
Respect: Tyler B (USA) Self-Belief: Shelly W (South Africa) Teamwork: Alfie Mc (India)
Term 3: Reception to Year 6 Sports Day
First: India Second: Brazil Third: China Fourth: Australia Fifth: Greece Sixth: South Africa Seventh: USA

AUSTRALIA
Year 1: Lorenza F, Amily H, Joel R and Calell R
Year 2: Jacob W, Lucy W, Justin O, Charlie W, Aimee M, Izzy A and Polly R
Year 3: Roxanne D, Arun B, Abbie S, Nicole H, Ashton C, Madeline B, Molly R and Finn G
Year 4: Millie T, Sean C, Ben N, Maddison H, Colby W, Chloe M and George H
Year 5: Lilly C, Riley S, Rhys C, Hannah R, Pennie C, Billy F, Akmal A and Ben C
Year 6: Macy T, Matthew P, Jessie H, Michael S, Max D and Libby C
YEAR 1
China: Samuel K, Olly M, Jack B and Alfie B
India: Jack O, Lucy P, Ruby D, Cleavan T and Charlie S
Greece: Isabella B, Harry A, Christopher H, Leon D and Harvey M
South Africa: Imogen B, Kaitlin C, Finley M, Sienna L and Riley D
USA: Summer-Joy S, Martha S, Amelia P, Erin T and Isaac N
Brazil: Josh W, Jack S, Ava R, Corey N and Jay B
Australia: Lorenza F, Amily H, Joel R and Calell R
BRAZIL
Year 1: Josh W, Jack S, Ava R, Corey N and Jay B
Year 2: Daniel A-B, Lily A, Roshan P, Cadi M, Pierce T, Luke W, Farrah W and Leon W
Year 3: Eve-Alexa Mc, Amelia T, Sebastian W, James B, Joesef W, Olivia T, Joe C and Abbey W
Year 4: Macie J, Joel R, Ella W, Laura O'N, Lincoln T, Lilly J and Piper R
Year 5: Alfie T, Thomas H, Hollie M, Libby H, Callum F and Jessie A
Year 6: Dylan J, Jessica M, Luke W, Luke R, Daniel B, Naomi F and Scarlett W
YEAR 2
China: Lewis C, Harriet W, Heidi R, Lennon H, Ellis H, Libby H, Elsie R and Lily A
India: Olivia G, Joseph C, Darcie C, Aaron Mc, Dylan I'A, Joseph L, Charlie R and Harry G
Greece: Millie B, Jessica L, Archie H, Ruby J, Evie R, Max L, Alexander S and Alfie T
South Africa: Kieran T, Thomas R, Holly R, Ava N, Daniel S, Harry S, Harriet W and Tomas W
USA: Gabrielle H, William M, Luke H, George H, Ruby Stockton-King, Lilly S, Sophie C and Layton H
Brazil: Daniel A-B, Lily A, Roshan P, Cadi M, Pierce T, Luke W, Farrah W and Leon W
Australia: Jacob W, Lucy W, Justin O, Charlie W, Aimee M, Izzy A and Polly R
CHINA
Year 1: Samuel K, Olly M, Jack B and Alfie B
Year 2: Lewis C, Harriet W, Heidi R, Lennon H, Ellis H, Libby H, Elsie R and Lily A
Year 3: Daniel M, Emilia G, Isaac K, Will C, James A, Lilly S and Nina B
Year 4: Charlie W, Matthew B, Oliver B, Kieron O, Jacob B, Lucy M, Emily S and Harrison E
Year 5: Samuel M, Anna H, Emily Mc, James C, Grace H, Sian A and Joshua N
Year 6: Oscar W, Billy A, Katie B, Anna C, Adam E, Arabella B and Bradley O
YEAR 3
China: Daniel M, Emilia G, Isaac K, Will C, James A, Lilly S and Nina B
India: Scarlett A, Grace M, Neo A, Tom W, Kyle S, Amelia N, Tegan B and Charlie T
Greece: Oliver D, Leah D, Kian T, Holly M, Olivia S, Jamie C, Jacob K and Lydia A
South Africa: Jack C, Jack W, Lois S, Isla B, Allister B, Daniel H and Amy P
USA: Leland S, Freya M, Toby M, Joe R, Ariana S, Aaron N, Josh W and Cherri T
Brazil: Eve-Alexa Mc, Amelia T, Sebastian W, James B, Joesef W, Olivia T, Joe C and Abbey W
Australia: Roxanne D, Arun B, Abbie S, Nicole H, Ashton C, Madeline B, Molly R and Finn G
GREECE
Year 1: Isabella B, Harry A, Christopher H, Leon D and Harvey M
Year 2: Millie B, Jessica L, Archie H, Ruby J, Evie R, Max L, Alexander S and Alfie T
Year 3: Oliver D, Leah D, Kian T, Holly M, Olivia S, Jamie C, Jacob K and Lydia A
Year 4: Shay H, Isobel E, Grace B, Jake D, Liam H, Grace S, Grace W and Charlie T
Year 5: Alexa D, Kaitlyn J, Flinn F, Lilly R, Jack D, Kyle D and Madison R
Year 6: Kamil M, Phoebe E, Laney S, Ellie B, Ben T, Louis S and Amy R
YEAR 4
China: Charlie W, Matthew B, Oliver B, Kieron O, Jacob B, Lucy M, Emily S and Harrison E
India: Kai F, Alfie Mc, Ruby C, Evie F, Jay S, Sophie A, Jessica G and Cameron H
Greece: Shay H, Isobel E, Grace B, Jake D, Liam H, Grace S, Grace W and Charlie T
South Africa: Jo V, Cara Mc, Dylan R, Shelly W, Matthew M, Phoebe S and James S
USA: Jack L, Sam C, Jodie W, Ethan M, Ben H, Tyler B, Bradley L and Emma W
Brazil: Macie J, Joel R, Ella W, Laura O'N, Lincoln T, Lilly J and Piper R
Australia: Millie T, Sean C, Ben N, Maddison H, Colby W, Chloe M and George H
INDIA
Year 1: Jack O, Lucy P, Ruby D, Cleavan T and Charlie S
Year 2: Olivia G, Joseph C, Darcie C, Aaron Mc, Dylan I'A, Joseph L, Charlie R and Harry G
Year 3: Scarlett A, Grace M, Neo A, Tom W, Kyle S, Amelia N, Tegan B and Charlie T
Year 4: Kai F, Alfie Mc, Ruby C, Evie F, Jay S, Sophie A, Jessica G and Cameron H
Year 5: Naise H, Jake H, Joshua L, Thomas W, Abigayle N, Oliver B and Ruby S
Year 6: Matthew R, Bradley A, Den M, Macey H, Maddison R, George T and Rebecca S
YEAR 5
China: Samuel M, Anna H, Emily Mc, James C, Grace H, Sian A and Joshua N
India: Naise H, Jake H, Joshua L, Thomas W, Abigayle N, Oliver B and Ruby S
Greece: Alexa D, Kaitlyn J, Flinn F, Lilly R, Jack D, Kyle D and Madison R
South Africa: Kobe S, Louis O'N, Tom W, Leonie W, Hollie W, Alyssia B, Millie W and Theo W
USA: Jessica B, Harvey M, Aiden U-S, Tiegan A, Oliver M, Daniel K and Sienna S
Brazil: Alfie T, Thomas H, Hollie M, Libby H, Callum F and Jessie A
Australia: Lilly C, Riley S, Rhys C, Hannah R, Pennie C, Billy F, Akmal A and Ben C
SOUTH AFRICA
Year 1: Imogen B, Kaitlin C, Finley M, Sienna L and Riley D
Year 2: Kieran T, Thomas R, Holly R, Ava N, Daniel S, Harry S, Harriet W and Tomas W
Year 3: Jack C, Jack W, Lois S, Isla B, Allister B, Daniel H and Amy P
Year 4: Jo V, Cara Mc, Dylan R, Shelly W, Matthew M, Phoebe S and James S
Year 5: Kobe S, Louis O'N, Tom W, Leonie W, Hollie W, Alyssia B, Millie W and Theo W
Year 6: Owen S, Millie M, Jayden C, Finfeen B, Neve B, Lewis W and Abigail S
YEAR 6
China: Oscar W, Billy A, Katie B, Anna C, Adam E, Arabella B and Bradley O
India: Matthew R, Bradley A, Den M, Macey H, Maddison R, George T and Rebecca S
Greece: Kamil M, Phoebe E, Laney S, Ellie B, Ben T, Louis S and Amy R
South Africa: Owen S, Millie M, Jayden C, Finfeen B, Neve B, Lewis W and Abigail S
USA: Scott T, Jack G, Mackenzie S, Madeline L, Olivia H and Layla T
Brazil: Dylan J, Jessica M, Luke W, Luke R, Daniel B, Naomi F and Scarlett W
Australia: Macy T, Matthew P, Jessie H, Michael S, Max D and Libby C
USA
Year 1: Summer-Joy S, Martha S, Amelia P, Erin T and Isaac N
Year 2: Gabrielle H, William M, Luke H, George H, Ruby Stockton-King, Lilly S, Sophie C and Layton H
Year 3: Leland S, Freya M, Toby M, Joe R, Ariana S, Aaron N, Josh W and Cherri T
Year 4: Jack L, Sam C, Jodie W, Ethan M, Ben H, Tyler B, Bradley L and Emma W
Year 5: Jessica B, Harvey M, Aiden U-S, Tiegan A, Oliver M, Daniel K and Sienna S
Year 6: Scott T, Jack G, Mackenzie S, Madeline L, Olivia H and Layla T