YEAR 4 RESIDENTIAL 2018-2019
Twenty-seven children in Year 4 chose to participate in our Year 4 Camping Programme which culminated in an overnight camp at Pybus Campsite at the foot of the Cleveland Hills: Harry A, Alfie B, Imogen B, Isabella B, Jay B, Kaitlin C, Riley D, Ruby D, Lorenza F, Christopher H, Amily H, Samuel K, Sienna L, Bobby Mc, Olly M, Isaac N, Corey N, Jack O, Amelia P, Zak P, Joel R, Calell R, Jack S, Martha S, Charlie S, Summer-Joy S and Erin T.
The question was: WOULD THEY SURVIVE?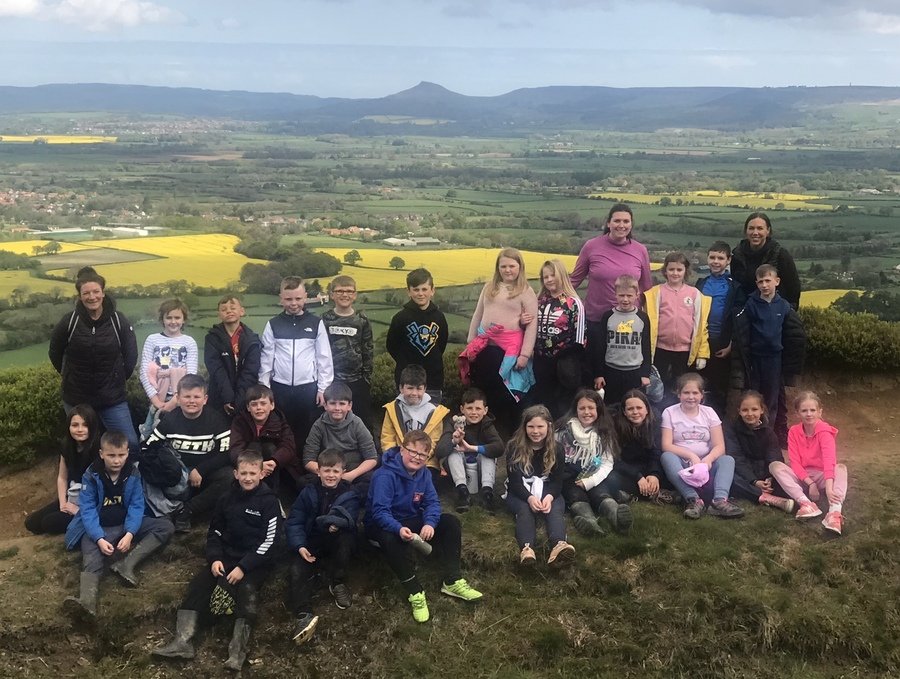 Day 1:
Based at school, the children revised from Year 3 all of the skills they would need in order to survive on their overnight camp. This included working collaboratively in their 'tent groups' to plan their evening meal, breakfast and lunch.
Day 2 (Overnight Camp Day 1):
On the morning of the first day of the camp, the children visited a local supermarket in order to purchase everything they needed for the different meals they had to prepare.
On arrival at Pybus, the children had their packed lunch and then set about pitching the mess tents and their own individual tents.
After time to play and explore, the children were faced with the challenge of cooking their evening meal on the camping stoves.
Before bed, the children enjoyed a campfire with hot chocolate, sweets and marshmallows.
Day 3 (Overnight Camp 2):
The next morning, the children cooked their breakfast before clearing up and breaking camp.
The children's final challenge was to walk up the hill to experience incredible views of the surrounding area!
All twenty-seven children survived!
Congratulations to all of the children!
The children's achievements were all linked to our key learning outcomes in the 'Clavering Residentials Programme': teamwork; communication; problem solving; resilience; motivation; leading and supporting; self-confidence and trust; challenge and risk; learning new skills; and environmental awareness.
Many thanks to:
Mr McAvoy for organising our Year 4 Camping Programme;
Mrs Robson, Mrs Maxwell, Miss Sutheran and Mr McAvoy for accompanying the children on their overnight camp;
Miss O'Brien and Mrs Winter for visiting the children at Pybus;
Andy and Steve who were our instructors from the West View Project; and
the Year 4 families who trusted us to take their children away and bring them back in one piece!