Did you know that Clavering was the first school in Hartlepool to achieve 'FAIRACHIEVER' status?
Dear parents, carers, children and other interested parties,
At Clavering Primary School, we believe that learning about Fairtrade issues is an extremely powerful way for children to find out about issues beyond the classroom and make a positive contribution to the world in which they live. It is an opportunity to learn about how individual consumer choices can make a real difference to people's lives.
Clavering Primary School is committed to learning about, promoting and taking action for Fairtrade wherever possible. We believe that Fairtrade can make a difference to the lives of young people throughout the world by improving living and working conditions for the people who grow the things we buy.
This webpage celebrates our ongoing commitment to Fairtrade and our achievements as a 'FairAchiever' school!
Best wishes,
Mr N. C. McAvoy and Mrs S. Weightman
Fairtrade Champions
Did you know that our Fairtrade work (as part of our wider commitment to conservation, sustainability, adventurous activities and outdoor learning) has won the prestigious 'Best of Hartlepool' Award? What an achievement!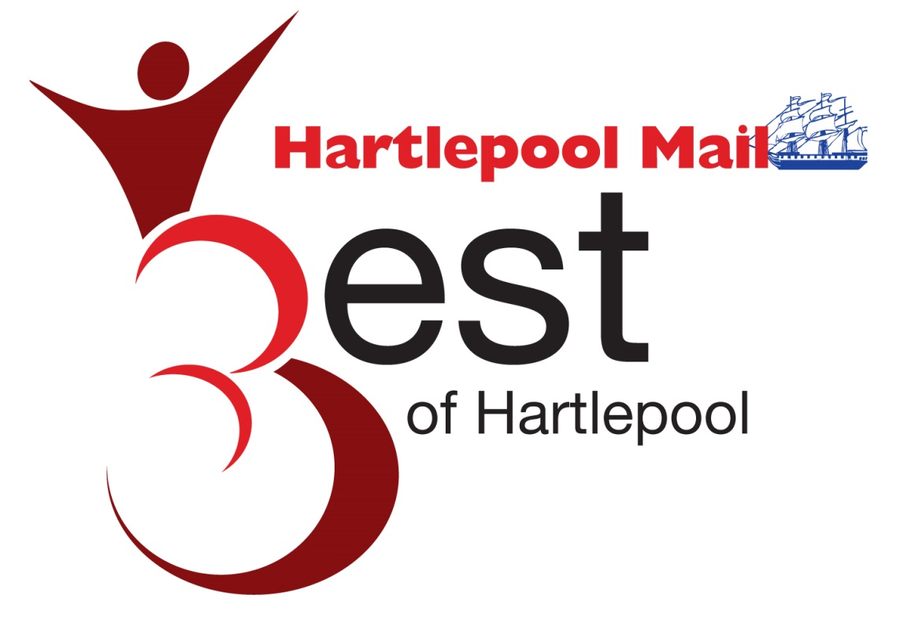 CLAVERING FAIRTRADE STEERING GROUP
Every year, we establish a Fairtrade Steering Group to champion Fairtrade across the school. We have now evolved to a stage where we feel that our pupils are capable of leading the group themselves with the support of our Fairtrade Champions, Mr McAvoy and Mrs Weightman, and the Hartlepool Fairtrade Steering Group that we have excellent links with. The children take as much responsibility as possible for planning, making decisions, organising events and writing letters.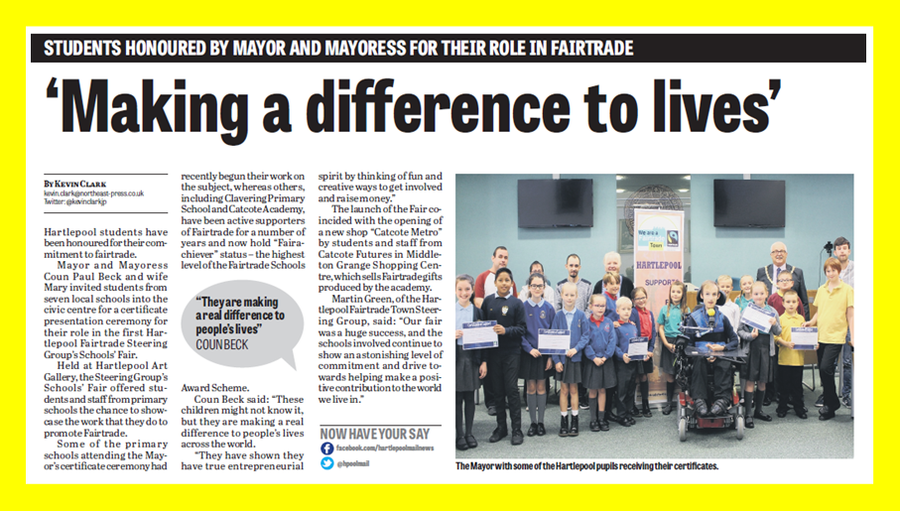 'FAIRACHIEVER' AND 'FAIRTRADE SCHOOL' STATUS
We were awarded 'FairAchiever' in 2014, having received 'Fairtrade Schools' status in 2012!
In 2014, the Fairtrade Foundation relaunched the Fairtrade Schools Programme. The programme now has three levels: 'FairAware', 'FairActive' and, the top level, 'FairAchiever'. We are delighted to say that we were contacted by the Fairtrade Foundation to say that they automatically awarded Clavering with 'FairAchiever' status because of the outstanding quality of the school's work and commitment to Fairtrade.
CONGRATULATIONS to everyone in the Clavering Family who has learnt about, promoted and taken action for Fairtrade!
FAIRTRADE IN THE NEWS
Our ongoing commitment to learn about, promote and take action for Fairtrade has attracted a lot of publicity over the last few years: our activities have been featured on various Fairtrade-related social media accounts (including the Fairtrade Foundation and Fairtrade Schools), our work has been used as an example of best practice by the Hartlepool Fairtrade Steering Group, and we have had numerous articles published in the Hartlepool Mail. All of this helps to further promote Fairtrade to the wider Clavering Family and general public.
FAIRTRADE FORTNIGHTS
Since 2011, every year, we promote and take action for Fairtrade in partnership with the Fairtrade Foundation and the Hartlepool Fairtrade Steering Group. This includes learning about Fairtrade in the Spring Term and whole-school challenges during Fairtrade Fortnight led by our Fairtrade Steering Group.