INTRODUCTION
Clavering PESSPA Programme: developing a lifelong love of physical activity
'I've never entered a school which had embedded a culture of Physical Activity more so than Clavering Primary School: a pioneer for Physical Education, School Sport and Physical Activity (PESSPA) across the country, operating in a local authority with very little opportunities.' Clavering Primary School is 'a beacon of best practice for all things PE, School Sport and Physical Activity.' (Jordan Stephenson, Regional Development Officer, Youth Sport Trust)
'The Physical Education, School Sport and Physical Activity (PESSPA) provision provided by Clavering Primary School is exceptional.' and 'It is fantastic to see how the School Games values and passion for the subject are embedded across the school and embraced by all students, members of staff and governors.' (Kate Robinson, Hartlepool School Games Organiser)
Clavering Primary School is 'a stellar example of what is possible through PESSPA' and 'there are few schools out there doing as much as Clavering; plus what is so special at Clavering is that it is embedded and led by pupils.' (Stuart Kay, Schools Director, Youth Sport Trust)
This video was put together by members of our PESSPA team and PESSPA pupil leaders in 2018-2019.
'The physical education (PE), school sport and physical activity programme director ensures that the additional sport funding is extremely well used. There is a strong programme of competition, residential activities, and after-school clubs available to pupils. Curriculum plans are well thought through to ensure that pupils acquire the knowledge and skills required to make excellent progress.' (Ofsted)
Dear parents, carers, children and other interested parties,
At Clavering Primary School, we want every Clavering child to be:
competent and confident physically;
competitive successfully; and
committed to maintaining a healthy, active lifestyle.
There is a very clear vision that drives the Clavering Physical Education, School Sport and Physical Activity (PESSPA) Programme; Clavering isn't just a "sporty school"; we are a "physically active school" that is committed to all forms of physical activity (e.g. active learning, active pedagogy, active transport, active playtimes, PE lessons, school sport, residentials, etc) with the aim of developing a lifelong love of physical activity that maximises the physical, social, emotional and mental benefits of regular physical activity.

Through the nationally-recognised, multi-award-winning and extremely well connected Clavering PESSPA Programme, dedicated staff members work tirelessly to achieve an outstanding Physical Education (PE) curriculum; promote physical activity for all; provide our pupils with the chance to compete in sporting events and tournaments at cluster, town and regional level; and ensure that all of our pupils, staff members and governors are part of an established culture that promotes academic and sporting excellence.
We are grateful for the government's PE and Sport Premium funding and are passionate about strategically using this money effectively to improve provision in all aspects of our PESSPA Programme, as well as having a wider school impact.
'The Physical Education (PE), School Sport and Physical Activity Programme Director ensures that the additional sport funding is extremely well used.' (Ofsted)
As a school community, we are increasingly focusing on our commitment to promoting the health and wellbeing of our pupils and staff through physical activity, aiming to maximise opportunities for children and all associated with the school to be physically active by promoting all avenues for activity (not just in PE lessons and through competitive sport opportunities). This includes within our curriculum, within our extra-curricular offer, across our school environment and through links with the wider community. Having consulted with families, pupils and staff, we launched our Clavering 30:30 Physical Activity Strategy, ensuring that every Clavering pupil is physically active for at least thirty minutes during every school day and that no Clavering pupil is sedentary for longer than thirty minutes during any school day. This is being achieved in a strategic, systematic and fun way; however, we understand that positive behaviour change will only be sustained if children, themselves, are motivated to lead healthier lifestyles.
'Playtimes are full of fun. There are lots of activities for pupils to participate in, should they wish to. Older pupils support younger pupils in their play by organising games.' (Ofsted)
The Clavering Curriculum for PE covers dance, outdoor adventurous activities (OAA) and the use of at least fifteen different sports as contexts for learning; when added to our extra-curricular opportunities, our pupils have the opportunity to participate in over twenty different sports (plus dance and OAA).
'In PE, study progression documents are extremely detailed. They identify precisely how activities will build upon those previously taught to enable pupils to make excellent progress.' (Ofsted)
Within school, our pupils have the chance to compete in intra-school tournaments in over fifteen different sports formats across the school and in terms of inter-school sport against other schools, our pupils have the chance to compete in inter-school tournaments in at least fifteen different sports formats in, typically, well over fifty different competitions and festivals during an academic year.
The Olympic Legacy is certainly very much alive at Clavering with, for example, large percentages of pupils having the opportunity to represent the school in competitive inter-school sport before leaving us:
90% of the 2012-2013 Year 6 cohort;

90% of the 2013-2014 Year 6 cohort;
96% of the 2014-2015 Year 6 cohort;
94% of the 2015-2016 Year 6 cohort;
100% of the 2016-2017 Year 6 cohort;
100% of the 2017-2018 Year 6 cohort;
100% of the 2018-2019 Year 6 cohort; and

100% of the 2019-2020 Year 6 cohort.
We are proud of the outstanding opportunities that we are able to provide our pupils with in terms of chances to represent the school in a variety of inter-school sports competitions and the success that we have enjoyed in Cluster, Town and Tees Valley Competitions and Festivals. In addition, within school, every child participates in intra-school sports competitions for children of all ages and abilities.
Most importantly of all in our Clavering PESSPA Programme are our Clavering Sports Values: DETERMINATION, HONESTY, PASSION, RESPECT, SELF-BELIEF and TEAMWORK and the contribution that our PESSPA programme makes to our pupils mental health and wellbeing, as well as physical health. I am consistently delighted with the positive attitude that our pupils demonstrate when participating in PE lessons, other physical activity sessions and when representing the school. They are a credit to the whole Clavering family! Similarly, we are very proud of how the Clavering PESSPA Programme is increasingly positively contributing to our pupils' mental health and wellbeing, as can be seen in our role as a Lead Health and Wellbeing School and through Clavering being selected as one of the founding members of the 'Well Schools' movement. Our PESSPA Programme 'provides an important contribution to pupils' mental and physical well-being. It instils in pupils the importance of staying fit and healthy and the benefits of being active.' (Ofsted)

I am sure that you will agree that the Clavering PESSPA Programme is going from strength to strength and this success is having a positive impact right across the school.
Finally, despite the numerous sports trophies, shields and plaques which now fill our trophy cabinet, I am always very keen to emphasise the wider benefits of our school's PESSPA success in that one of the key aims of the Clavering PESSPA Programme is to try to achieve what was highlighted in the Ofsted report 'Going the extra mile: excellence in competitive school sport'. Ofsted has found that schools with high PESSPA standards have similarly high expectations in the classroom and, when led effectively, a school's PESSPA programme can help pupils to excel both in the classroom and on the playing field. We hope that this is what we are achieving at Clavering and I would like to take this opportunity to thank all of the teachers, support staff and governors at Clavering; Clavering families; our pupil-led School Games Organising Crew, PESSPA Leaders and Girls Active Leaders; and, most importantly of all, our amazing children for their ongoing support in this endeavour.
I hope you enjoy viewing the 'PESSPA' section of our school website which will continue to develop as each academic year progresses.
Best wishes,
Mr N. C. McAvoy
Deputy Headteacher and Clavering PESSPA Programme Director
As a result of the success of the 'Clavering PESSPA Programme', we have won a number of national awards and we have been asked by a variety of different organisations to share our work and the impact of the Sport Premium funding. Please click here for more information.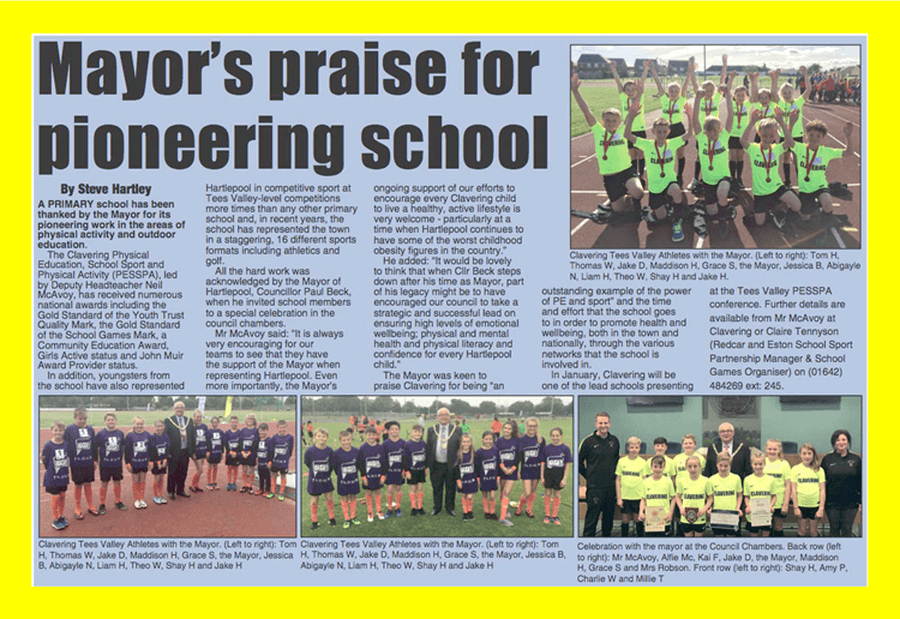 What is Physical Literacy, Physical Education (PE), School Sport & Physical Activity?
'Physical literacy' is described by the Youth Sport Trust as being 'the motivation, confidence, physical competence, knowledge and understanding that provides children with the movement foundation for lifelong participation in physical activity. Enabling children to be physically literate supports their development as competent, confident and healthy movers.'
'Physical activity', 'Physical Education' and 'school sport' are similar in that they all include physical movement, but there are important differences between them, as outlined below in definitions from the Association for Physical Education:
'Physical activity' is a broad term referring to all bodily movement that uses energy. It includes all forms of physical education, sports and dance activities. However, it is wider than this, as it also includes indoor and outdoor play, work-related activity, outdoor and adventurous activities, active travel (e.g. walking, cycling, rollerblading, scooting) and routine, habitual activities such as using the stairs, doing housework and gardening.
'Physical education' is the planned, progressive learning that takes place in school curriculum timetabled time and which is delivered to all pupils. This involves both 'learning to move' (i.e. becoming more physically competent) and 'moving to learn' (e.g. learning through movement, a range of skills and understandings beyond physical activity, such as co-operating with others). The context for the learning is physical activity, with children experiencing a broad range of activities, including sport and dance.
'School sport' is the structured learning that takes place beyond the curriculum (i.e. in the extended curriculum) within school settings; this is sometimes referred to as out-of-school-hours learning. Again, the context for the learning is physical activity. The 'school sport' programme has the potential to develop and broaden the foundation learning that takes place in physical education. It also forms a vital link with 'community sport and activity'.