2017-2018 INTER-SCHOOL COMPETITIONS
Did you know that our inter-school competitive sport provision (as part of the Clavering Physical Education, School Sport and Physical Activity Programme) has been used as an example of outstanding practice by the Youth Sport Trust?
We are proud of the outstanding opportunities that we are able to provide our pupils with in terms of chances to represent the school in a variety of inter-school sports competitions and the success that we have enjoyed in Cluster, Town and Tees Valley Competitions.
Once again, through the School Games programme, Clavering Primary School has been the most successful Hartlepool school in terms of success in inter-school competitive sport!
Click here to visit our webpage that summarises our victories from 2011 to the current academic year or visit any of the individual roundup pages that provide further information about competitions that we have entered in each academic year (starting in 2011).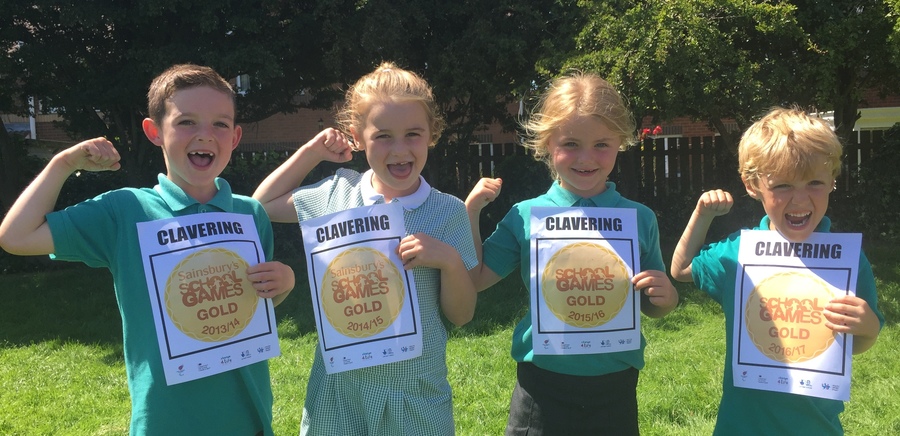 In terms of this academic year, we are providing updates on our PESSPA Twitter account (@ClaveringBolt), our 'Inter-School Sport' display board in school, our half-termly newsletter and on the following webpages:
2017-2018 inter-school football
(click here)
2017-2018 inter-school other invasion games
(tag rugby, basketball and netball)
(click here)
2017-2018 inter-school athletics and cross country running
(click here)
2017-2018 inter-school other sports
(including tri golf, kwik cricket, multi-skills, tennis and skipping)
(click here)