2018-2019 INTRA-SCHOOL COMPETITIONS
Did you know that our intra-school competitive sport provision (as part of the Clavering Physical Education, School Sport and Physical Activity Programme) has been used as an example of outstanding practice by the Youth Sport Trust?
2018-2019 School Games Cup Leader Board:
1st: Bears (2,420) 2nd: Lions (2,150) 3rd: Pandas (2,120) 4th: Tigers (1,980)
The Clavering house system enables the smooth organisation of internal competitions, particularly our nationally-recognised intra-school competitive sport programme. Within the four houses, children from Year 1 to Year 6 are divided into two separate teams (e.g. the Yellow Lions and the Green Lions). This means that competitions can run with eight teams which is more suitable (the only exception is the unusually small cohort which leaves Clavering in 2021 which competes in their standard four houses).

Sport PAWS points for achievement in intra-school competitions (including the chosen winner for each Clavering Sports Value) are totalled separately to the ongoing house totals. The winning house for intra-school sport wins the Clavering School Games Cup which, last year, was won by the LIONS house.
The photograph below shows the 2017-2018 Lions Year 6 House Captain Shay with the 2017-2018 Lions Year 2 House Vice Captain Sullivan: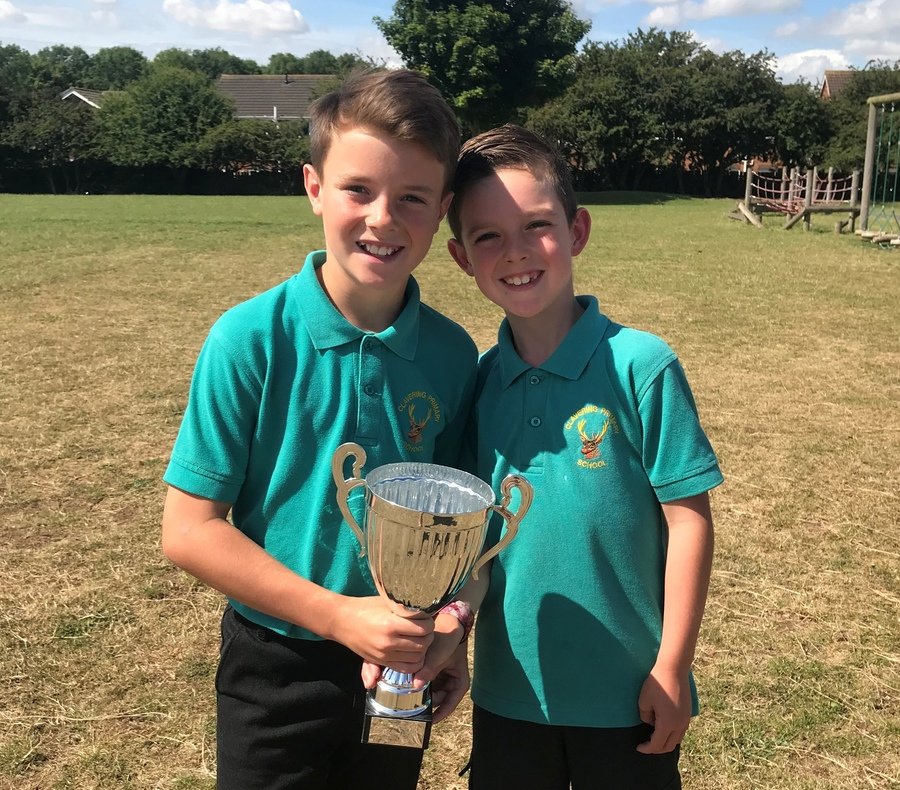 After each competition, points are allocated as follows: first: 100 points, second: 80 points, third: 60 points, fourth: 50 points, fifth: 40 points, sixth: 30 points, seventh: 20 points, and eighth: 10 points. In addition, twenty points are allocated to a child who best demonstrates each Clavering Sports Value: determination, honesty, passion, respect, self-belief and teamwork.

Results from intra-school competitions across the school and their effect on our School Games Cup leaderboard will be updated here and on our 'Inter School Sport' displayboard throughout the academic year. Results are also posted on our 'Clavering PESSPA Programme' Twitter account (@ClaveringBolt) and feature in our half-termly newsletter.