CLAVERING JOHN MUIR AWARD PROGRAMME
Developing a lifelong love of physical activity
Developing active conservationists with a love of the wild and a commitment to sustainability
Did you know that over three hundred members of the Clavering Family have gained their John Muir Award?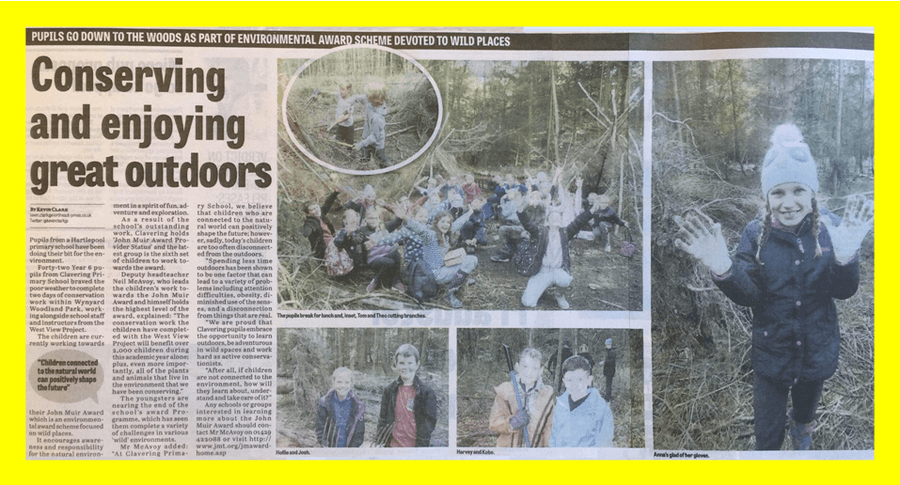 Dear parents, carers, children and other interested parties,
John Muir might seem like a distant historical figure to some, but his message – that we all need to experience, enjoy and take care of wild places – is as relevant today as it ever was.
At Clavering Primary School, we believe that children who are connected to the natural world will positively shape the future which is why we are a Green-Flag-holding 'Eco-School' and why we annually run our John Muir Award Programme in Year 6. We are proud that Clavering pupils embrace the opportunity to learn outdoors, be adventurous in wild spaces and work hard as active conservationists. After all, if children are not connected to the environment, how will they learn about, understand and take care of it? The Clavering John Muir Award Programme is the climax of our pupils' wild adventures that start in the Early Years and completing this prestigious, internationally-recognised environmental award is a fantastic vehicle for allowing our children to explore their values and spirituality whilst encouraging them to connect, enjoy and care for wild places.

At Clavering Primary School, we want our children to thrive in adversity; to show courage, determination, perseverance and grit in adversity; and even – dare we say it – to show cheerfulness and a positive attitude in adversity. At some point during our John Muir Award Programme (which includes strenuous conservation activities and challenging outdoor adventures), most, if not all, of our participants will struggle. But what, every year, we ask our children is this: are you the sort of person who can turn around when you have nothing left, and find that little bit extra inside you to keep going, or do you sag and wilt with exhaustion and fear?
Life is a mental game, and it is hard to tell how people will react until they are squeezed. Our programme pushes, challenges and squeezes our children, and we make no apology for that. After all, as all of our John Muir Award Programme participants have learnt, if you can find a path in life with no obstacles, it probably doesn't lead anywhere.
Best wishes,
Mr N. C. McAvoy
Deputy Headteacher and John Muir Award Programme Director
Did you know that our John Muir Award Programme (as part of our wider commitment to conservation, sustainability, adventurous activities and outdoor learning) has won the prestigious 'Best of Hartlepool' Award? What an achievement!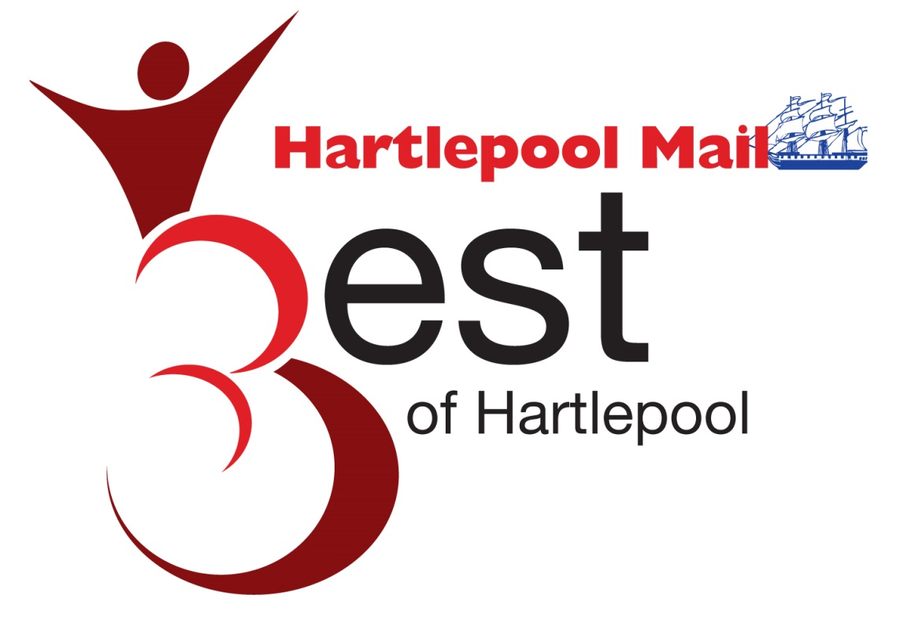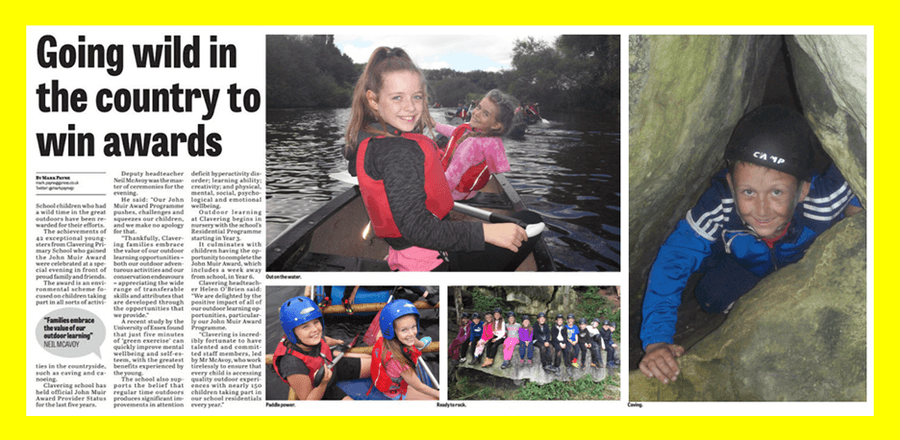 'Spending time in 'wild places' helps me release all of my fears and worries and they all just jump off the edge of the hill! When I am out discovering and exploring, I just focus on the beauty and the subtle smells of the outdoors; it helps me to feel happy and feel very worry-free. The soft and gentle colours all help with feeling calm and safe.'
(Emily, former Clavering pupil and John Muir Award recipient)
'I think it is important to spend time in wild places because it helps you to understand the importance of looking after the environment. The best way to experience and appreciate wildlife is in its natural habitat and, of course, being out in the wild gives you the opportunity to have amazing adventures that you can never have at home or in the classroom at school!'
(Jonathan, former Clavering pupil and John Muir Award recipient)
CLAVERING JOHN MUIR AWARD PROGRAMME IN THE NEWS!
The amazing exploits that our children and staff members get up to as part of the 'Clavering John Muir Award Programme' are regularly featured in the Hartlepool Mail.
Click here to check out our brilliant articles!
We have also written a case study with the John Muir Trust about the 'Clavering John Muir Award Programme' which is available on the John Muir Trust website: http://www.jmt.org/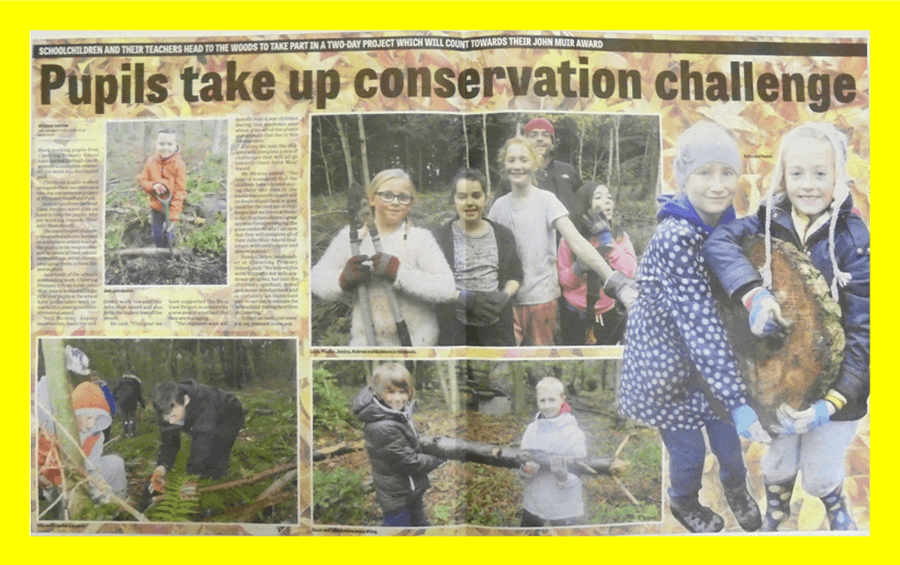 WHAT IS THE JOHN MUIR AWARD?
The John Muir Award is an environmental award scheme focused on wild places. It encourages people to connect with, enjoy and care for the natural environment.
Every year, children in Year 6 are given the opportunity to work towards their John Muir Award. In 2012, we were incredibly proud to be awarded 'John Muir Award Provider Status' by the John Muir Trust. This is a significant accolade for a primary school and is a wonderful reflection on the quality of our John Muir Award Programme.
The John Muir Award challenges participants to complete four challenges: discover wild places; explore them; do something to conserve them and share experiences. All of this needs to be done in a sustainable way.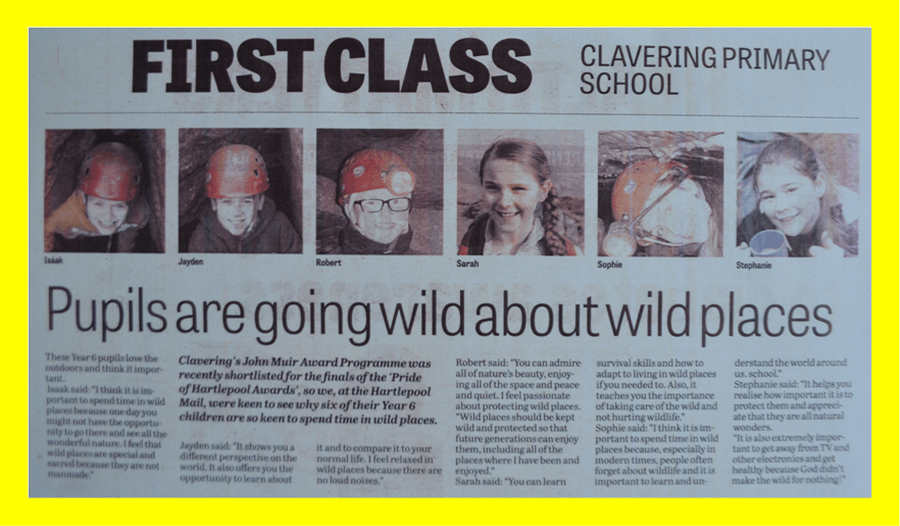 The John Muir Trust's vision is that: wild places are valued by all, and wild land is protected and enhanced throughout the United Kingdom. One of the features of our John Muir Award Programme that the John Muir Trust was particularly impressed with was how we strategically use our John Muir Award Programme to enhance and extend our pupils' Spiritual, Moral, Social and Cultural Development.
To find out more about the John Muir Award, please visit: https://www.jmt.org/jmaward-home.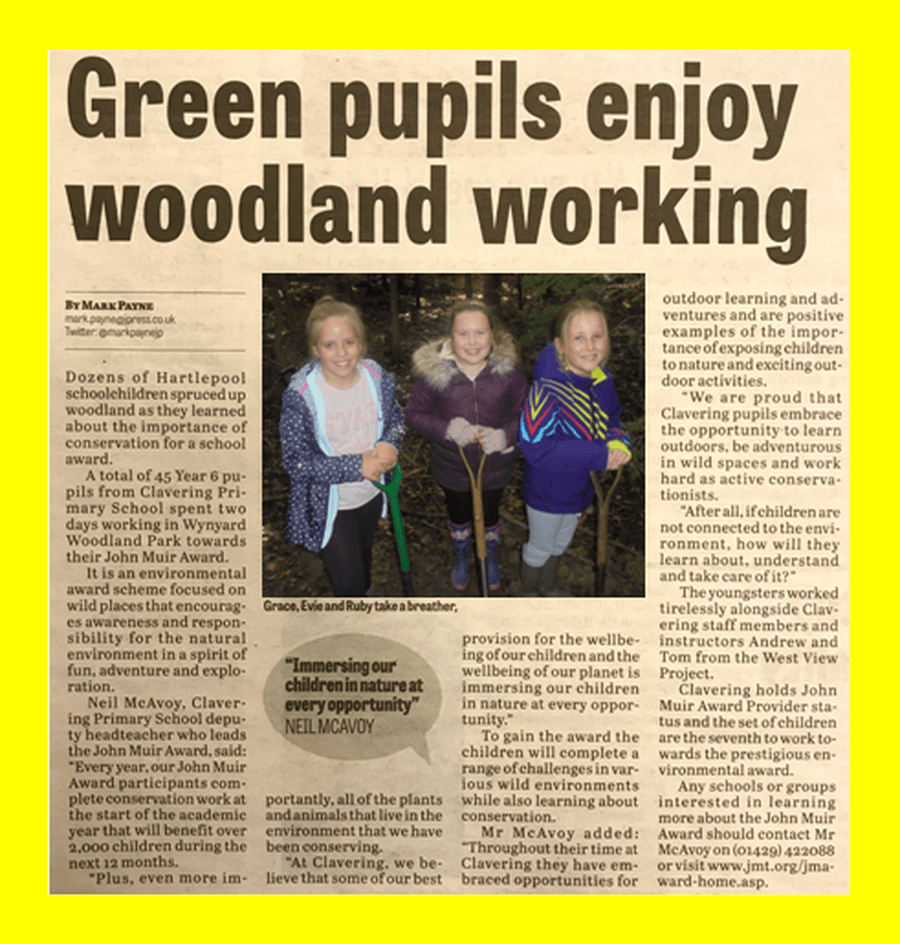 WHO WAS JOHN MUIR?
Born in 1838 in the Scottish port of Dunbar, John Muir emigrated with his family as a child to the USA where he became a founding father of the conservation movement, and devoted his life to safeguarding the world's landscapes.
At home in the wild, John Muir made countless expeditions amongst mountains, forests and glaciers and has inspired thousands with his writing and passion for wild places.
He influenced the creation of Yosemite National Park (one of the first National Parks), was a founding member of the Sierra Club, and campaigned for the protection of areas of North American wildness against commercial enterprises which threatened to destroy their beauty.
John Muir showed the people of his time - and ours - the importance of experiencing and protecting our natural heritage. His personal and determined involvement in the nature conservation questions of the day was, and remains, an inspiration for all of us.
It was John Muir's view that it is not enough for people to be in sympathy with the plight of the natural world, but that they must become 'active conservationists' – as campaigners, as practical project workers, as scientists, as artists, as writers.
To find out more about the John Muir Award, please visit: http://discoverjohnmuir.com/ and https://www.jmt.org/home.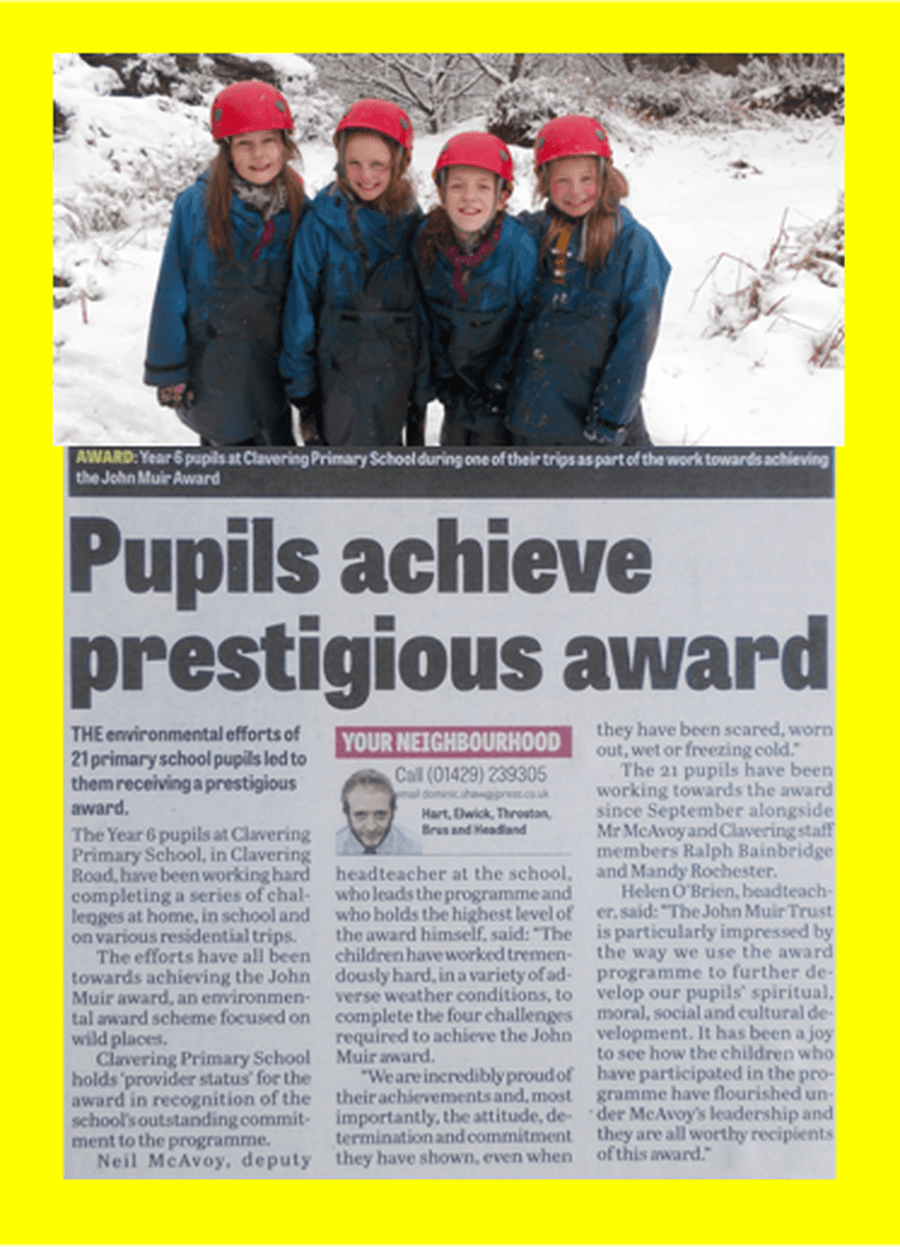 'Keep close to Nature's heart ... and break clear away, once in awhile, and climb a mountain or spend a week in the woods. Wash your spirit clean.' (John Muir)
'An outdoor education teaches young people how to make good decisions and to take responsibility for their actions.' (Bear Grylls)
'Contact with the natural world isn't a luxury; it is actually a necessity for all of us. All we know about the natural world gives us pleasure, delight, expertise, continuous interest throughout the year - joy on many occasions and solace on sad ones. Knowing about the natural world and being in contact with the natural world is the most precious inheritance that human beings can have.' (Sir David Attenborough)