FUNDAMENTAL MOVEMENT SKILLS
Note: the development of the 'Clavering framework for teaching Fundamental Movement Skills' has been supported by a number of organisations, in particular the Department of Education, Victoria, Australia; the Department of Education, Western Australia, Australia; the Department of Education and Training, New South Wales, Australia; Sport New Zealand; the Youth Sport Trust; Sports Coach UK; UK Coaching; Sport Scotland; and Sport for Life, Canada.
INTRODUCTION
The development of children's Fundamental Movement Skills (FMS) at Clavering Primary School is a significant step towards establishing a lifelong commitment to healthy, active lifestyles.
FMS are the building blocks for movement. They are the skills which children need to participate successfully in all types of games, physical activities and sports.
FMS can be categorised under three headings:
Locomotion skills;
Stabilisation skills;
Object manipulation skills.
Examples of these skills are shown below:
Locomotion

: walking, running, bounding, hopping, leaping, jumping (height), jumping (distance), rolling, galloping, climbing, sliding, skipping, jogging, skating, swimming, swinging, crawling and dodging.
Stabilisation

*: balancing, stretching, extending, flexing, landing, floating, stopping, twisting, turning, rotating, pivoting, bending, hanging, bracing, tucking, rolling, swinging and squatting.
Manipulation:

Sending: pushing, throwing, bouncing, kicking, punting, rolling an object, striking an object and rolling.

Receiving: pulling, catching, stopping and trapping.

Travelling with: dribbling (feet), dribbling (hands), dribbling (stick), carrying (hands), bouncing and collecting.
* These movements are performed both dynamically and statically in place.
Mastery of these skills is not just the ability to perform a given movement, but the ability to perform the movement in a proficient and controlled manner (often at speed).
Within the Clavering Curriculum for Physical Education (PE) and other physical activities offered at school, we devote a significant amount of time and expertise to improving the fundamental motor skills of our pupils.
Having researched and analysed outstanding practice in teaching FMS globally, we have identified twelve FMS that we consider to be essential if our pupils are going to successfully participate in the many physical activities, games and sports offered at Clavering:
the

static balance;

the

sprint run;
the vertical jump;
the catch;
the hop;
the side gallop;
the skip;
the overarm throw;
the leap;
the kick;
the two-hand strike;
the dodge.
These twelve skills were selected because together they represent a solid formation for the development of specialised skills, enabling pupils to participate in a wide range of physical activities.
WHY DO WE TEACH FUNDAMENTAL MOVEMENT SKILLS (FMS)?
The development of FMS is an important step towards ensuring lifelong involvement in physical activity. Without proficiency in skills like throwing, catching, kicking, leaping and balancing, children are less likely to explore the range of options available to them to establish and maintain active lifestyles. The development of movement skills occurs sequentially, with proficiency in FMS forming the basis for the development of more advanced sport-specific skills.
Research suggests that children who are competent in FMS are more likely to enjoy sports and activities and to develop a lifelong commitment to physical activity. Research also suggests that children who do not master FMS are more likely to drop out of physical activity in later life.
Children who have achieved proficiency in FMS have been found to have better self-esteem, socialisation skills and a more positive attitude towards physical activity. Research indicates that the improvement in self-esteem and confidence in performing FMS has a flow-on effect to other areas of a child's education. For example, improvement in confidence in physical coordination has been found to help develop proficiency in reading and writing.
Watch the video below to learn how FMS fit in with the Youth Physical Development Model (which has been incorporated into the Clavering Curriculum for PE):
HOW DO OUR CHILDREN DEVELOP FMS?
Contrary to popular belief, children do not pick up FMS naturally as part of their normal growth and development. Children need to be taught these skills and given opportunities to practise them.
Children also need to be provided with:
developmentally appropriate activities and equipment;

visual demonstrations of skills;

instruction and feedback;

a variety of activities, with a focus on fun and challenge;

encouragement;

a safe and positive learning environment.
It is reasonable to assume that, given instruction, encouragement and the opportunity to practise, boys and girls can be equally proficient in all twelve FMS before they leave Clavering Primary School.
HOW LONG DOES IT TAKE OUR CHILDREN TO LEARN FMS?
It is easy to underestimate the amount of time it takes to develop proficiency in FMS. Factors like the complexity of the skill, the age of the learner and the instructional methods used play a large part in the amount of time it takes to become proficient in a skill. Research suggests that it takes between 240 and 600 minutes of instruction time for the average pupil to become proficient in one fundamental movement skill.
HOW ARE FMS LINKED TO SPORT-SPECIFIC SKILLS?
FMS provide the building blocks that enable a child to progress to developing sport-specific skills.

We cannot expect children to be proficient in producing sport-specific movements before they have mastered FMS.
WHEN SHOULD FMS BE TAUGHT?
The optimal period for introducing FMS is in the early years of schooling. There are several reasons for this:
this is a time of relatively slow growth;

children have plenty of opportunities to practise in structured and unstructured activities;

current movement patterns are not entrenched.As our pupils continue to develop physically (the 'doing me'), cognitively (the 'thinking me') and emotionally (the 'feeling me'), opportunities to refine and develop skill proficiency will occur as they move through the stages of Clavering Primary School: Early Years Foundation Stage (Nursery – Reception), Lower School (Year 1 – Year 2), Middle School (Year 3 – Year 4) and Upper School (Year 5 – Year 6).
WHEN DO WE TEACH OUR TWELVE IDENTIFIED FMS?
At Clavering Primary School, we have developed a planning guide for our pupils' development of each FMS.
In addition, each of our twelve identified FMS have been broken down into 5-7 easily identifiable components. These components are described as either 'introductory' or 'fine-tuning':
the introductory components are those components which pupils are most capable developmentally of demonstrating from Reception to Year 2;

the fine-tuning components are those components which will generally be demonstrated by pupils after they have reached proficiency in the introductory components. Most pupils will not be at a cognitive or physical level of development in Lower School to acquire the fine-tuning components. Fine-tuning will typically occur in Middle School and Upper School as pupils grow and develop.
The ordering of components as introductory or fine-tuning has been based upon studies which reported the percentage of children at different ages who had mastered each component of a skill. It has also been based on studies of childhood development which look at how children progressively develop control of their bodies.
Four FMS are introduced for focused teaching each year in Reception, Year 1 and Year 2; however, pupils will also be exposed to activities that include the other eight FMS. Giving pupils adequate opportunities to practise four skills each year should ensure that they develop proficiency in the introductory components of each skill by the end of that year.
Once pupils have developed the introductory components of a skill, it is important that teaching and learning shift focus to the development of the fine-tuning components. Our framework suggests that each skill needs a three-year period of practice and consolidation for this to occur.
An important aim of the Clavering Curriculum for PE is that our pupils should be able to demonstrate proficiency in all twelve FMS by the end of Year 6; however, with adequate learning and practice time, most pupils, given their stage of growth and development, should be able to demonstrate the FMS earlier than this, as indicated in our framework.
THE CLAVERING FRAMEWORK FOR TEACHING FMS
The table below is taken from our Clavering Curriculum for PE: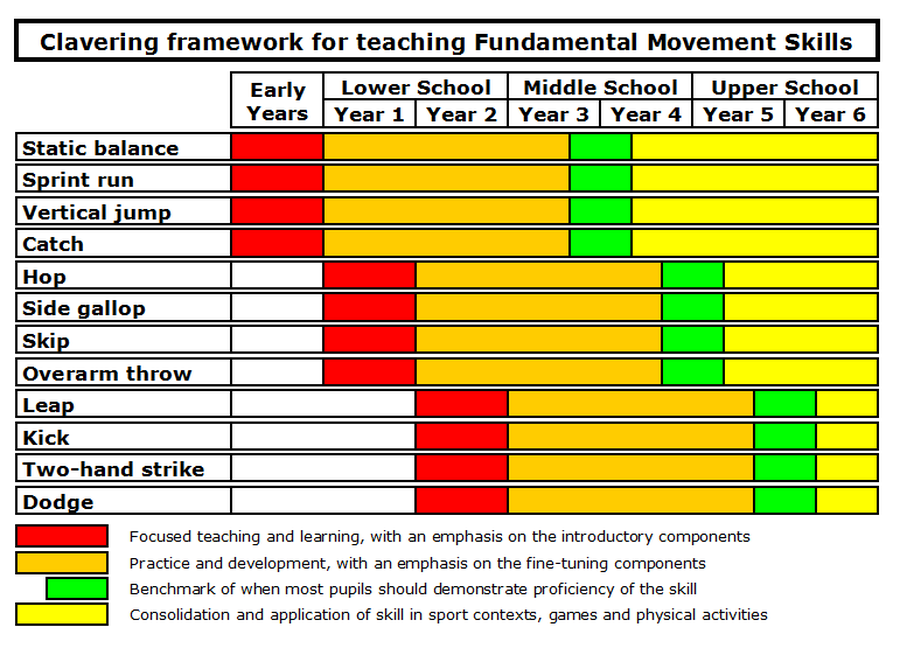 A WORD OF WARNING: PHYSICAL LITERACY AND FMS
Fundamental Movement Skills are an essential part of physical literacy; however, they are not all of it!
At Clavering, we follow the Youth Sport Trust's definition of physical literacy: ''the motivation, confidence, physical competence, knowledge and understanding that provides children with the movement foundation for lifelong participation in physical activity' and we understand that 'enabling children to be physically literate supports their development as competent, confident and healthy movers.'
When we are teaching FMS, we are developing motor competence in our children; however, if we just deliver physical literacy through FMS, our children will not get the whole picture. FMS have to be developed in the context of using them in the right space, selecting the right movement skill for the right environment, being aware of others in space, etc. So if we just teach form of the basic skills, we are not delivering physical literacy. This is why our PE lessons need to cover all other aspects of physical literacy and the appropriate physical qualities of the Youth Physical Development Model.