NATIONAL AWARDS AND NETWORKS
Developing a lifelong love of physical activity
The Clavering Physical Education, School Sport and Physical Activity (PESSPA) Programme has won much praise over the last few years, both locally and nationally. This webpage summarises some of the awards that we have won and some of the networks that we are part of - all having the aim of improving the physical health and wellbeing of our pupils.
'I've never entered a school which had embedded a culture of Physical Activity more so than Clavering Primary School: a pioneer for Physical Education, School Sport and Physical Activity (PESSPA) across the country, operating in a local authority with very little opportunities.' Clavering Primary School is 'a beacon of best practice for all things PE, School Sport and Physical Activity.' (Jordan Stephenson, Regional Development Officer, Youth Sport Trust)
SCHOOL GAMES: PLATINUM AWARD HOLDER
We were the first school in Hartlepool to be awarded the GOLD standard of the School Games Mark. After holding the GOLD standard for five years, we then became the first Hartlepool school to successfully apply for the PLATINUM AWARD, which is an extension to the School Games Mark, rewarding schools who have maintained consistently highs standards with their PE, school sport and physical activity provision.
Achieving the highest level of the School Games Mark is testimony to the tremendous work that goes on at Clavering in PE lessons, in school sport (both intra- and inter-school) and in our many extra-curricular clubs and activities. We are fortunate to have staff members and families who understand and appreciate the benefits of the Clavering PESSPA Programme in terms of both sporting achievement and also the successful ethos of the school as a whole. In addition, we are blessed with amazing children right across the school who have a tremendous appetite for what we offer in our PE curriculum and our wider physical activity and school sport opportunities.
'The Physical Education, School Sport and Physical Activity (PESSPA) provision provided by Clavering Primary School is exceptional.' and 'It is fantastic to see how the School Games values and passion for the subject are embedded across the school and embraced by all students, members of staff and governors.' (Kate Robinson, Hartlepool School Games Organiser)
As well as holding the PLATINUM AWARD of the School Games Mark, we have worked closely with the School Games programme to share best practice nationally. For example, we have written case studies with staff from the School Games programme in the areas of intra-school sport, inter-school sport and physical activity; our work has been used as an example of outstanding practice during School Games and YST training that has been held all around the country; and we have shared the contribution of our PESSPA Programme and the implementation and impact of our Physical Activity Strategy at the National School Games Summit and, subsequently, at many School Sport Partnership conferences around the country.
YOUTH SPORT TRUST KITEMARK: GOLD AWARD HOLDER
We are very proud to have achieved and renewed the GOLD standard of the Youth Sport Trust (YST) Quality Mark every year since 2014-2015. We use the Quality Mark as a self-review tool to assess and review the outcomes of the Clavering PESSPA Programme.
Clavering Primary School is 'a stellar example of what is possible through PESSPA' and 'there are few schools out there doing as much as Clavering; plus what is so special at Clavering is that it is embedded and led by pupils.' (Stuart Kay, Schools Director, Youth Sport Trust)
The YST Quality Mark allows us to evaluate our provision and outcomes in physical education, school sport and physical activity against national standards. Our current outcomes are:
High quality Physical Education (PE): GOLD;
High quality school sport and physical activity: GOLD;
Using high quality school sport and PE as a catalyst for learning: GOLD.
We are fortunate that the whole Clavering Family supports our vision for PE, school sport and physical activity and one of the areas that our YST assessments have always been most impressed with is how the Clavering PESSPA Programme is focused on both the physical and mental development of every Clavering pupil.
As a result of our outstanding reputation with the YST, we have been asked to participate in a number of their national programmes, including being one of just fifteen schools nationally to be asked to share 'cutting edge expertise' as part of the YST's 'Practitioner Development Programme'.
YOUTH SPORT TRUST WELL SCHOOLS: FOUNDING SCHOOL
Powered by the Bupa Foundation and YST, we were honoured to be asked to be one of the founding schools of the Well Schools movement: a growing community of like-minded people, schools and organisations that believe that wellbeing should be at the heart of education and be the foundation of the culture that staff and pupils experience. We have contributed to shaping the principle three pillars of the 'Well Schools' model: Well Led, Well Equipped and Well Prepared.
YOUTH SPORT TRUST HEALTH AND WELLBEING LEAD SCHOOLS: LEAD SCHOOL
The Clavering PESSPA Programme is about much more than winning on the playing field; it is about winning in life and we were honoured to be selected to be a YST Health and Wellbeing Lead School. Health and Wellbeing Lead Schools are classed as being beacons of best practice in using PE, sport and physical activity to improve the wellbeing of pupils in order to improve their achievements and life chances. They are part of a national network that helps to create and deliver innovative solutions that address the physical, social and emotional decline in wellbeing of targeted groups; plus they work in partnership with internal and external services for children's health to create a 'well' ethos across the whole school. Health and Wellbeing Lead Schools are particularly focused on the issues of obesity, inactivity, mental health and social connectedness and ensuring there is robust evidence for funders and Ofsted.
YOUTH SPORT TRUST AMBASSADOR SCHOOLS: AMBASSADOR SCHOOL
As a YST Ambassador School, Clavering is part of a network of schools who work with the YST on innovation, sharing best practice and rebuilding the evidence base for the impact of PE, sport and physical activity on school improvement through leadership and strategy; school culture and ethos; teaching and learning; behaviour and wellbeing; and pupil progress and achievement.
YOUTH SPORT TRUST HEADTEACHER AMBASSADORS: HEADTEACHER AMBASSADOR
We are delighted that, as a result of his well-respected, inspirational and passionate leadership of the Clavering PESSPA Programme as a primary school senior leader, Mr McAvoy was asked to volunteer as a YST Headteacher Ambassador. These ambassadors are part of a national network of exceptional leaders who inform local and national policy makers in education, sport and health; plus they contribute to the YST's strategy and future direction.
YOUTH SPORT TRUST NATIONAL SCHOOL SPORT WEEK: NATIONAL AWARD WINNER
One of the main aims of the Clavering PESSPA Programme is that we want our children and staff to be 'committed to maintaining a healthy, active lifestyle'. As well as our work in school, we work tirelessly to encourage our pupils and families to be active outside of school, supporting national initiatives and local clubs and teams; societies; and performing arts and dance schools. For example, our inspirational work in supporting the one-off National School Sport Week At Home was recognised with a special award from YST and Sky Sports for the school and one of our families.
YOUTH SPORT TRUST GIRLS ACTIVE: NATIONAL AWARD WINNER
Clavering was one of the first primary schools nationally to receive Girls Active status from YST, pioneering the use of the programme within primary schools. As a school, we recognise that girls' needs differ and change as they mature and that girls themselves are uniquely positioned to 'sell' PE, sport and physical activity to other girls. Every year, we recruit a team of Girls Active Leaders who act as inspirational role models to plan and lead events (including extra-curricular clubs, assemblies and Girls Active Afternoons). We were delighted to receive a Future Leader Award from the YST, Women In Sport, Sport England and This Girls Can for our outstanding work.
ASSOCIATION FOR PHYSICAL EDUCATION
We are a proud member and passionate supporter of the Association for Physical Education (afPE), which is the representative subject association for PE in the UK. Their purpose is to promote and maintain high standards and safe practice in all aspects and at all levels of physical education, school sport and physical activity, influencing developments at national and local levels that will impact on pupils' physical health and emotional wellbeing. We have accessed outstanding CPD and networking opportunities with afPE and have written for their journal: 'Physical Education Matters'.
DEPARTMENT FOR EDUCATION: CONSULTANT AND CONTRIBUTOR
We were honoured to be approached by the Department for Education to become part of a network of experts who the DfE PE and Sport Team contacts to consult on a full range of issues linked to Physical Education, school sport, and physical activity; physical health, mental health and wellbeing; the effective use of the PE and Sport Premium; and the impact of government-funded programmes.
In addition, we have worked alongside the DfE to create videos for their online physical activity platform, sharing best practice in ensuring that children are physically active throughout the school day.
OAK NATIONAL ACADEMY: EXPERT PANEL MEMBER
It was an honour to be asked to be a member of the Expert Panel for Physical Education, which contributed to the vision, design and implementation of Oak's PE Curriculum for remote teaching and learning, working alongside staff from Oak National Academy, OFSTED, afPE CEO: Sue Wilkinson MBE, YST's CEO: Alison Oliver MBE, the YST Head of PE and Achievement: Kate Thornton-Bousfield, and a secondary expert.
TT EDUCATION: SCHOOL IMPROVEMENT CLUB: FOUNDING MEMBER
We were delighted to become a Founding Member of TT Education's School Improvement Club. TT Education is the UK's leading Primary School Improvement Company, working with schools and MATs to improve the quality of children's education, including PE, PSHEE and wellbeing. Clavering and TT Education share the same moral purpose: we always hold our children at the heart of everything we do.
FA: FOR ALL: NATIONAL AWARD WINNER
We were very excited to win a national competition linked to our commitment to promoting girls' participation in PE and sport, particularly girls' football, through the #WeCanPlay initiative. The main prize for winning the competition was a visit from England international superstar Lucy Bronze. During Lucy's visit, eighty KS2 girls travelled to 'The Sports Domes' in Seaton to participate in special Middle and Upper School intra-school competitions, allowing all the girls time to meet, question and be inspired by our Lioness' hero.
'I had a great day in Hartlepool; so many girls excited to be out playing football. It was something that I didn't have growing up, but it's so good to be able to go to these schools with so many girls playing and see for myself how much girls' football is growing' (Lucy Bronze, England Lioness)
COMMUNITY EDUCATION AWARDS: NATIONAL AWARD WINNER
We were delighted to win the Outstanding Sports Project category of the Community Education Awards for our 'first rate PE and sport provision and for promoting inclusion for children in sport at all levels'. The Community Education Awards recognises outstanding school projects nationally, focusing on personal, social and health education; for our award, the awarding panel was particularly impressed by how the Clavering PESSPA Programme has had a wide and far-reaching impact in school, locally and nationally.
During a special assembly, the school was presented with the winners' trophy and certificate by Kevin Daly (UK Project Director for the Community Education Awards). We were also joined by a delighted Iain Wright MP, Cllr Paul Beck and Cllr Rob Cook who were all incredibly proud of the school's achievement. Mr Wright said that our programme was 'the best in the town' and Mr Daly spoke at great length about how the Clavering PESSPA Programme clearly has helped to develop a rich variety of skills and attributes in our children.
PREMIER LEAGUE PRIMARY STARS: NATIONAL AWARD WINNER
Since its launch, we have been part of the Premier League Primary Stars Programme. As well as receiving two sports kits and winning a full package of Super Movers kit, we have embraced the Primary Stars' curriculum-linked education programme, using the appeal of the Premier League and professional football clubs to inspire children to learn, be active and develop important life skills. In addition, the programme's Super Movers initiative is a popular tool for active learning at Clavering, particularly in Key Stage One.
Since 2012, Clavering has been part of the Get Set community, which is the British Olympic Association and British Paralympic Association's youth engagement programme. The programme aims to inspire young people to fulfil their potential and maintain healthy, active lifestyles; give all young people the chance to learn about and live the Olympic Values of friendship, excellence and respect and the Paralympic Values of inspiration, determination, courage and equality; and build excitement about Team GB and Paralympics GB, using the Olympic and Paralympic Games as a hook for learning and participation.
As well as using a range of innovative curriculum resources in school to enhance a number of subject areas, we also took a group of pupils to the Olympics in 2012 and, more recently we have been visited by Team GB sprinting superstar, Richard Kilty.
HARTLEPOOL BOROUGH COUNCIL: SPECIAL RECOGNITION AWARD WINNER
It was a privilege to be awarded with a specially-created award from the ceremonial mayor of Hartlepool in recognition of 'the outstanding achievements of the Clavering PESSPA Programme, including its contribution to children's physical health and mental health at Clavering, locally and nationally.' The award was presented at a very special event within the private chambers at the Hartlepool Civic Centre.
As a result of our reputation in promoting physical activity and healthy lifestyles, we were asked to be part of the council's Obesity Steering Group, advising the council as they seek to tackle some of the worst child and adult obesity figures in the country.
BEST OF HARTLEPOOL AWARDS: AWARD WINNER
It was an honour to win a Best of Hartlepool award for our commitment to giving our pupils wild experiences whilst fostering a love of the natural environment. The award recognises our commitment to physically-active, outdoor learning; providing our children with memorable adventures across the school through our Outdoor Adventure Programme (as part of our PESSPA Programme); and our Eco and conservation endeavours (including our Eco Schools work and John Muir Award Programme).
In addition to wild adventures across the school, Clavering pupils have the opportunity to participate in three progressively-challenging and physically-active residentials in Year 4, Year 5 and Year 6, totalling ten days away from home. Our residentials programme provides the experience of living with others, which transforms relationships and develops a strong sense of community and belonging. This sense of community supports a wide range of positive social and learning outcomes long after our pupils return to school, including the ten key learning outcomes of the Clavering Residential Programme.
JOHN MUIR AWARD: AWARD PROVIDER
As part of our PESSPA Programme and Eco-Schools work, we want our pupils to be active conservationists. The John Muir Award is an environmental award scheme involving four challenges that encourages awareness and responsibility for the natural environment in a spirit of fun, adventure and exploration. Gaining this internationally-recognised award is open to all Year 6 pupils and we are proud to hold John Muir Award Provider Status for our outstanding work in developing children who are committed to conserving and enjoying wild places.
ECO SCHOOLS: GREEN FLAG AWARD RECIPIENT
We are delighted to have been awarded the internationally-recognised Eco-Schools Green Flag, which is the highest level of the Eco-Schools award scheme. We believe that children who are connected to the natural world will positively shape the future and we are proud that Clavering pupils embrace the opportunity to participate in active transport; learn in the outdoors; be adventurous in wild spaces; and work hard (both academically and physically) as active conservationists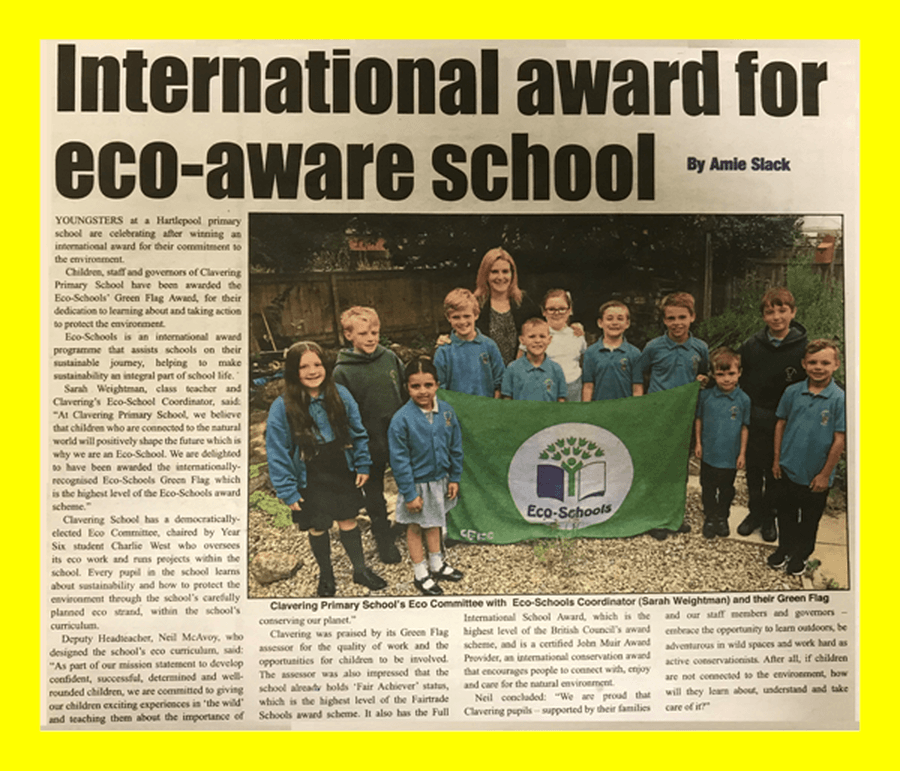 RHS CAMPAIGN FOR SCHOOL GARDENING: LEVEL 5 GARDENING AWARD RECIPIENT
Many forms of physical activity are promoted and supported at Clavering, including our ever-popular gardening programme, supported by the Royal Horticultural Society. Our work with the RHS Campaign for School Gardening provides many benefits, including improving physical and mental wellbeing; building life skills such as confidence, teamwork and communication; encouraging a healthier, more physically-active lifestyle; teaching about the environment and sustainability; and helping our pupils to engage with their surroundings better whilst developing a strong sense of responsibility. We are a RHS Level 5 Gardening School, which is the highest level of the RHS's award scheme.